What They Say?

"Man often becomes what he believes himself to be. If I keep on saying to myself that I cannot do a certain thing, it is possible that I may end by really becoming incapable of doing it. On the contrary, if I have the belief that I can do it, I shall surely acquire the capacity to do it even if I may not have it at the beginning."
–Mahatma Gandhi


---
EVERYDAY LESSONS
Malcolm Gladwell in his book 'Outliers - The Story of Success' says that Achievement = Talent + Preparation. He gives us a magic number: Ten Thousand Hours. "The emerging picture from studies is that ten thousand hours of practice is required to achieve the level of mastery associated with being a world-class expert in anything." He, along with a team of psychologists, looked at the best of composers, basketball players, fiction writers, musicians, chess players, cricketers, scientists, doctors, artists, and found out that they all were not just gifted with natural talent but had reached the top after these 10,000 hours of practice.

If we practice for 10 hours a week, we can reach that number in 1000 weeks, that makes it about 20 years. So, therefore, it's all about starting early. The earlier you begin to practice or train your brain in a particular field, more are the chances of becoming successful at a young age.
---
---
MACHINE LEARNING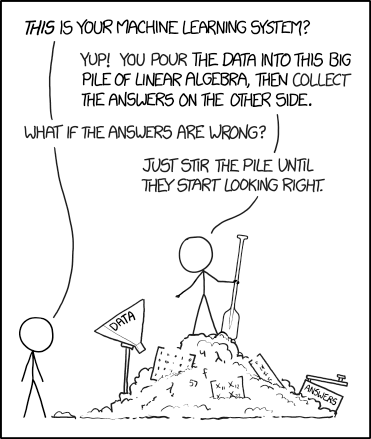 Courtesy: XKCD.COM