What They Say?

"Today a reader, tomorrow a leader."
– Margaret Fuller

"You've gotta dance like there's nobody watching,
Love like you'll never be hurt,
Sing like there's nobody listening,
And live like it's heaven on earth."
— William W. Purkey


---
EVERYDAY LESSONS
In the war of Mahabharata, Pandavas were in a dilemma about what to do abut the confusing Chankravyuh - a maze formation of the army made by Dronacharya. Abhimanyu, Arjuna's 16 year old son, came forward and said to Yudhishtir, "Uncle, give me permission. I can penetrate the maze". Yudhishtir was aware of Abhimanyu's bravery and skill; but he had some reservations as Abhimanyu was very young.

Upon requesting and seeking blessings from Yudhishtir and other Pandavas, Abhimanyu entered the maze set up by Kauravas. This 16 year old managed to do what other great charioteers of the Pandava army had failed to do. His soldiers accompanied him. He went deeper and deeper inside the maze while fighting. But his soldiers were unable to follow him as they were being blocked by fierce warriors of the Kaurava army. Unaware of this Abhimanyu forged ahead and on his way he massacred enemy soldiers, elephants and horses. Kauravas were amazed to see his courage. Ultimately the Kauravas decided to attack Abhimanyu from all the sides. But Abhimanyu did not relent, and fought all of them with exemplary courage!

But struck by an arrow Abhimanyu fell unconscious while fighting. In that condition, Dushasana struck him with his club, causing Abhimanyu's death. Abhimanyu, the young boy who tormented mighty Kaurava warriors, died a heroic death. He teaches us to use our skills and prowess to the utmost level.
---
---
MOMENTS OF INSPIRATION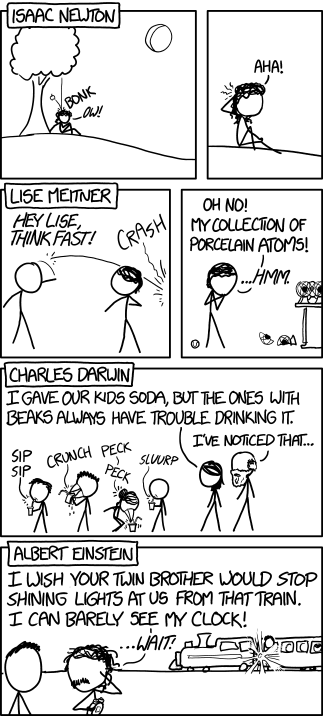 Courtesy: XKCD.COM