What They Say?

"Peace begins with a smile."
- Mother Teresa


EVERYDAY LESSONS
"A young innocent girl, coming from the neighborhood with some prasad (holy food) for us, finds out that the people in the house are fighting and quarrelling. The moment she enters the home she gets scared and simply returns back, without showing her presence or sharing the prasad.
In the same way, Peace comes to us like a young innocent girl, but looking at our fights, quarrels and selfishness, it returns. I think that we don't need to do anything for Peace. Just if we stop all of this, there is Peace."
- Morari Bapu
---
---
HOW OLD?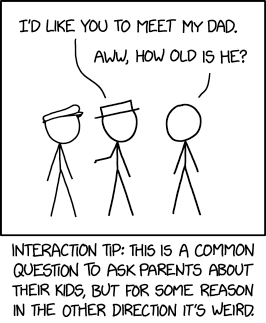 Courtesy: XKCD.COM