What They Say?
"What we think, we become."
- Buddha

"Teach this triple truth to all: A generous heart, kind speech, and a life of service and compassion are the things which renew humanity."
— Buddha
---
---
THE MOON AND THE GREAT WALL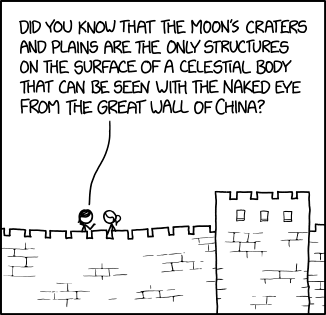 Courtesy: XKCD.COM
This is a reference to the myth that the Great Wall of China is the only manmade object[citation needed] that can be seen from the Moon (or from space) with the naked eye. Sadly, it cannot. In fact, it's barely visible from the low orbit of satellites.

This comic mocks the myth by conflating it with another saying about the Moon, and how the Moon's craters and valleys are visible to the naked human eye. Indeed, the Moon is the only celestial body for which this is true.